I remember a year ago, reading an article in on one of my favorite magazines on how to make the perfect New York cheesecake. The pictures alone looked so amazing, making me wish to leave everything I was doing and attempt to try one straight away. Caramel, banana, chocolate flavor… Then the moment passed by and my beautiful magazine remained carefully tugged in my bookcase shelf waiting to be re-discovered and enjoyed one day.
Still cheesecake has been lately on my mind, ever since a week ago when Swa shared with me a similar article by Ruth Rechil with tips and tricks on making the perfect New York vanilla cheesecake. This time, the moment was right and I have left my senses guide me into preparing one following her advise and delicious recipe.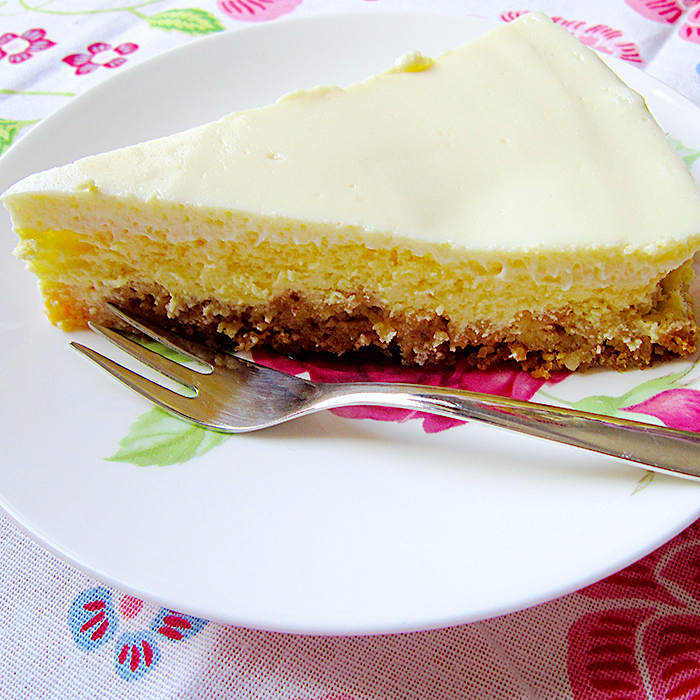 Ingredients
For the crust
200g Grany Hazelnut biscuit crumbs
120g melted butter
For the filling
500g cream cheese, at room temperature
200g sugar
4 eggs
2 vanilla packages (Dr. Oetker)
For the topping
400g sour cream
100g sugar
2 vanilla packages (Dr. Oetker)
Method
1. Bake the crust: Preheat oven to 175 degrees. Mix the cookie crumbs with the melted butter and press into bottom and sides of a springform pan. Put into the freezer for 15 minutes. Bake for 10 minutes, just to crisp the crust. Take out of the oven and let it slightly cool – 10 min.
2. Make and bake the filling: Beat the cream cheese, sugar, eggs, and vanilla until smooth. Pour into crust and bake 50 minutes, on 150 degrees. Take out of the oven and let it slightly cool – 10 min.
3. Top and bake again: Stir together the sour cream, sugar and vanilla and spread over cooled cake. Return to oven for 12 minutes until glossy. Topping will set as the cake cools.
4. Chill: Cool completely, cover, and chill in the refrigerator at least 8 hours.